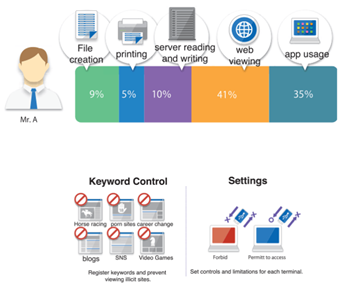 Kyocera Propel Network is embarking into the IT security and working closely with a Japanese partner to provide these solutions.
Manage IT Assets & Monitor Asset Performance
We automatically collect information to ascertain usage status of IT assets, including PCs and software, and create an environment to render the best performance by setting up the right resources in the right places.
Employee Monitoring & Productivity Management
By recording computer usage, we can suppress illicit and non-business use. Also, we learn about and analyze usage of IT assets and work status, creating improved operational efficiency and productivity.
USB Control, App control & Control of data removal
By visualizing data usage and controlling routes through which information can leak (Web, devices, apps, PCs), we protect personal information and your company's secret information.